- After installing XCAPI, you can immediately activate the setup assistant, by ticking "Configure XCAPI now" and confirming with "Complete".
- First, select a controller type. Here, select "PBX or other VoIP system", to incorporate XCAPI into your telephone system.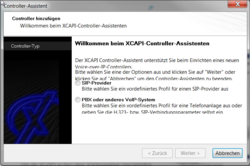 - In the next step, select the network card through which the system is connected to the network.
To spare you the configuration of the correct parameters, the setup assistant already contains predefined profiles for various Voice over IP environments, including NFON.
- For this purpose, select the entry "SIP Provider" from the list and "NFON" from the following list.
- Now, enter the access information for the XCAPI you received from NFON as well as the extension name to which the XCAPI was assigned as an end device on the service site.
You can specify any name for the controller however, for logical reasons the name should be an informative one for identification purposes (e.g. NFON, NFON FAX, etc.). The number of available lines depends on the licence you acquired from TE-Systems.
- Exit the assistant with "Complete", then restart the XCAPI application to initialise it.
This completes the XCAPI setup.