Groups
Choose this option to create, modify and delete lodgements groups. This kind of groups is intended to speed up several operations such as check-in, check-out and automatic wake-up mark on a set of rooms related to the same entity (company, travel agency, etc.). NHospitality does not impose any limit to the number of rooms in a group and does not control estimated check-in and check-out dates (available only for user information). One room may exist in several groups so it is up to the user checking these data.
To perform any operation in this window, select Operations in menu bar or click right mouse button in window area: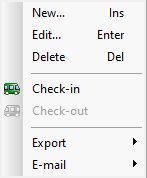 In addition to creation, modification and deletion, this menu also allows you to directly check-in or check-out groups (please refer to chapters Group check-in and Group check-out for more detailed information).