Please download the respective installation file for the Nsoftphone premium client from the downloads page under Software for Windows and start the setup.
You will now be greeted by the set-up assistant of your Nsoftphone premium client.
Please click "Next".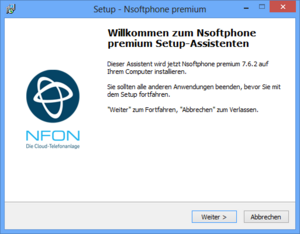 If you agree with the preconfigured installation directory please click "Next". Otherwise please choose another installation directory by clicking "Browse".
Please click "Next" then.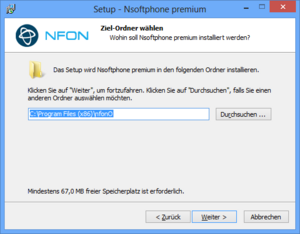 In the next step, please choose whether a desktop link should be available for the "current user" only or for "all users".
We highly recommend to install the Outlook Addin* if you also use Outlook on your computer. As you activated this checkbox please close Outlook through the rest of the installation process.
For using your individual CRM application for your Softphone, please activate the checkbox "Install TAPI driver".
Please click "Next" then.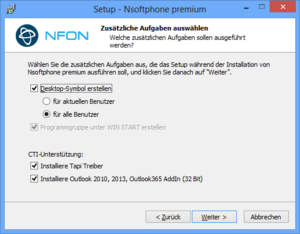 The installation is now complete. If you want to start the Nsoftphone premium please activate "Start Softphone" and click the Finish button then.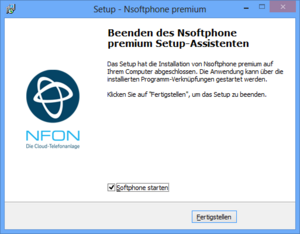 Subsequently, please choose between the graphical user interfaces "Classic Skin" and "Office Skin". Selection of the graphical user interface impacts the client view only. Basic functionalities might differ from scope and iteration. You're able to change the graphical user interface later on. Please see chapter X.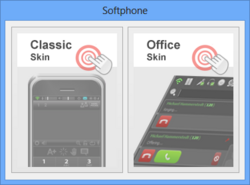 Please wait till your application has started.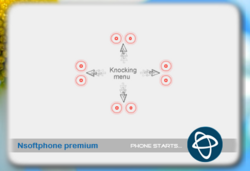 After installation the application successfully you'll find the Nsoftphone premium symbol in your tray.

Please login then with your personal acccount number as well as with your customer password. Please find more information in C.2.3. Setting the device up on the system.
The installation is now successfully completed.
In case you need logfiles for the installation:
Add /log as a parameter. A "Setup Log <Datum>.txt" will be created in the TEMP (%TMP%) directory.
When using MSI, proceed via "WRAPPED AGRUMENTS":
phone.msi WRAPPED_ARGUMENTS="-ap ""/verysilent /log"""
*) The Outlook plug-in allows you to dial a telephone number or a contact in Outlook directly via your nPhone or your desk telephone.
Thus you can also phone directly from Outlook. This means answer calls, place
calls, even hold telephone conferences and use many other functions.

More details about the Outlook plug-in on Outlook Addin.