To open the address book of the client, click on the green icon

in the menu bar.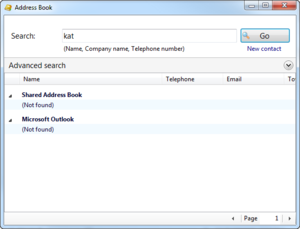 In the CRM version of the client, the address book automatically sorts your contacts depending on the CRM system. You will find all contacts of different CRM tools integrated into one directory.
Dial from the address book
You have the possibility to dial contacts directly from the address book.
Right-click on the contact in your address book.
If you click on Dial, the contact's information will be displayed.
By clicking on the telephone number, the call is initiated.
Search function
Enter the contact's name or extension into the search field.
If the contact is saved in several data bases, the contact will be displayed multiple times.