Go to the Favorites menu, its submenu Settings and press on Info to display the client version and other information.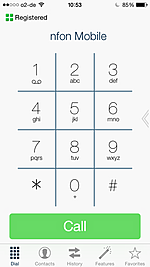 - Click on the Settings button.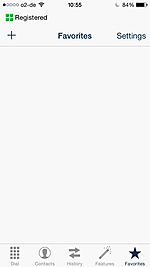 The latest version number of your Nvoice Mobile client is located in the info menu.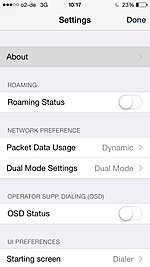 Use the Settings menu to view the AppID for the iPhone e.g. or start up auto-configuration (update settings).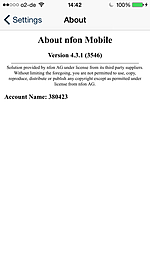 Within the provisioning menu, you can select "Send key via Email" and have the AppID of the iPhone emailed to you.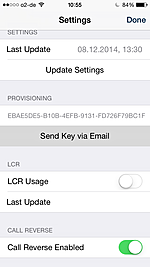 Definition of the submenus
Find your current client version.
There is no interface that provides information to the Nvoice Mobile client whether the phone is in roaming mode. If a user is located abroad or outside of his network, the state of the client should be adjusted. This ensures that calls are routed as planned (via Mobile Least-Cost Routing MLCR).
Without WIFI, Data cannot be transported via a sole mobile connection. Availabilty of mobile data channels depends on your network and mobile contract. In many cases, contracts allow a certain included data volume. Usage of data channels can be surpressed by clicking on "Off". To allow only data channels with HTTPS , select "Minimal". To use a local network only, choose "Local Network". Choose "Dynamic" to use data channels when needed.
Choose either Single or Dual Mode. In Single Mode WIFI or mobile data connection is only allowed for signaling or HTTPS. Dual Mode allowes for additional Voice over WIFI, if your device supports WIFI and data usage via the operating system.
Some network provider offer operator supported dialing which allowes for dialing the Call-Through numbers automatically. This service works only in combination with a SIM card activated for the Nvoice Mobile. If OSD is offered by your operator set the OSD on "ON".
Starting screen: Choose the screen for your client.
UC: Activate chat, instant messaging or presence information.
Presence Domain
Ring Tone: Choose your client's ring tone.
Vibrate: Choose whether the phone is supposed to vibrate at calls.
Add numbers that have to be dialed via your regular mobile identiy. These are those numbers that are not supposed to dial via client specific routing. E.g. the voice mail number of your network operator. Seperate several numbers with dashes and no blanks. Emergency numbers are no service numbers. International emergency numbers are embedded in the Nvoice Mobile client on default. Additional local emergency numbers have to be added in the Service NO.S section.
See when your settings where updated the last time. Perform an update by clicking on "Update Settings".
Here is the AppID of your Nvoice Mobile Client. The AppID is necessary to register the client at the PBX. You can have the AppID sent to you by Email.
Admins can choose routing rules that allow specific numbers to be called via a specific call type. The rules can be transferred from the MC Controller to the MC Client.
If Call Reverse is active, incoming calls are outgoing calls. It might be cheaper to perform ougoing calls from your mobile device than calling from the landline to your mobile device. Both variations are invisible to the user, because the MC Client is acting as if an incoming call is performed and will conduct a ring tone. The call can be rejected like any other incoming call.
Set your Nvoice Mobile Client back to factory settings.
You may trace your communication on your Nvoice Mobile. This is especially useful for error search.
Enter the number that is supposed to be used for transfers in case the option office telephone is chosen. In most cases this is the number of your desk telephone. However, you can choose any random telephone number. If the number is entered, the number will be available for in-call-options.