The Nvoice Mobile client phone book can also access the iPhone phone book as well as the main phone book of the telephone system.
- To do so, select Contacts.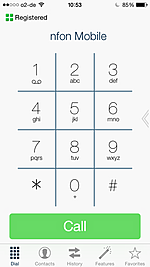 Select by clicking on Contacts between your personal contacts and company contacts. By clicking on Company contacts you will see all contacts saved in the central directory.
- If you want to see the complete list of all your contacts, meaning all iPhone contacts and contacts saved in the central directory, click on All contacts.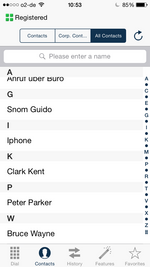 You will now find your iPhone contacts also in the Nvoice Mobile client directory. You can call these contact via the Nvoice Mobile client.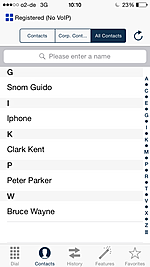 Please enter at least 3 letters in order to find the contact. Company contacts will not be cached on the device and must be searched for. Local contacts will be displayed on iPhone.