Please follow these instructions to configure your Nvoice Mobile on the service site:
- To log onto the administration portal, open the website address https://portal.nfon.com in an Internet browser and enter your username and the password.
- Click on Elements, then Devices.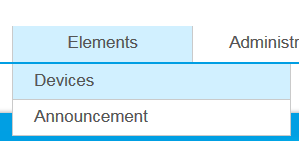 - Click on the button Add new device and select iPhone in the category "Nvoice Mobile".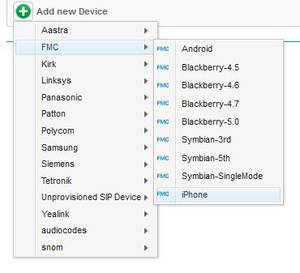 ⇒ You can now add your mobile phone as an Nvoice Mobile device on the administration portal:
- Select Firmware – Please select your corresponding Client Version.
- Please enter AppID/UDID– You can also have the AppID emailed to you. You can then simply copy the AppID from the email and copy & paste it on the service site. You can find the UDID under Info > Settings > Show Provisioning.
- Here please enter the location of your Nvoice Mobile client. Because the Client was originally made for mobile devices, it is recommended to choose "mobile site".
- Click on the "Add"-button, to enter your mobile phone number in +17912345678 format.
Now, please click on Save, to add your iPhone to the telephone system. Now, you only need to configure an extension for the Nvoice Mobile end device.
Adding extensions to your Nvoice Mobile are subject to fees.
There are two possibilities to assign a Nvoice Mobile to an extension via the administration portal. Firstly, it is possible to add a new extension (Premium Version) and add your Nvoice Mobile Client data here.
Alternatively you can assign the Nvoice Mobile to an existing extension. Double klick on your end device in the Elements / Devices section in the administration portal. The IMEI/UDID of your mobile phone is displayed.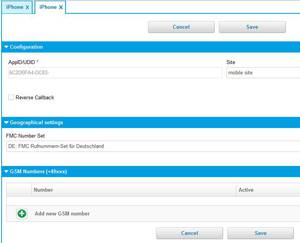 Once you have finished installing the Nvoice Mobile client on your mobile phone and automatic configuration has been completed, you can use your mobile phone to the full extent as a permanent extension of the telephone system.