Using the menu key, select "Quit" to close the Nvoice Mobile client.To generally no longer be available through the Nvoice Mobile identity, use the Nvoice Mobile menu to activate the "Do not disturb (DnD)" function. Once this function has been activated, you can no longer receive calls via your Nvoice Mobile identity.
The top right of the Nvoice Mobile client home screen indicates when the "Do not disturb (DnD)" function is activated (displays "DnD" when activated).If you are wondering why you have not received any calls in a while, you should check if this function is activated.
DND can be deactivated by clicking on the NFON icon on the upper left side and slide the bar to OFF. Alternatively, it can be controlled via the menu item "Features".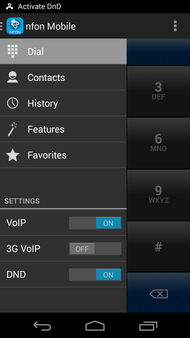 or