-Call forwarding can be set up through the Features menu. Select "Call forwarding".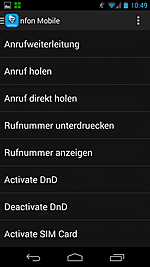 - Forward calls "always" (Feste Weiterleitung), "if busy" (Bei besetzt) or "if no answer" (Bei nicht erreichbar). E.g. select "Feste Weiterleitung".
-Now, enter a telephone number to transfer to or select a contact from the phone book.
⇒The call forward is now being processed.
Here you can deactivate the chosen call forwarding.
-Press "Lösche feste Weiterleitung", "Löschen bei nicht erreichbar" or "Löschen bei besetzt".