To join a meeting, you need an invitation. After you have received an invitation to a meeting, there are several options to join a meeting.
Using the link in the browser
If you have a Cloudya account, copy the link in the browser and login with your account. You can join the meeting on the Web app or on the Cloudya desktop app.
If you do not have a Cloudya account, copy the link in the browser and continue as a guest.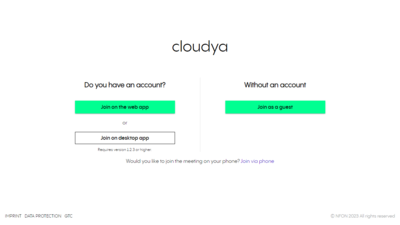 Using the link in the join meeting section
Paste the meeting link into the input field under Join Meeting and click on Join.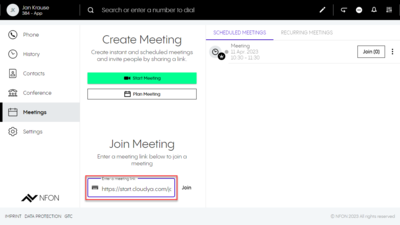 Joining a meeting via dial-in
It is also possible to join a meeting with an audio-only device, such as a desktop phone:
as "new", individual participant
or connected to a participant who already joined the meeting. In this case TWO clients are connected to the user. This can be used for conference rooms with conference audio equipment.
This is done by entering an optional participant ID when dialing in. The participant ID is displayed in the Cloudya App Suite Client on the first device in the meeting information.
In both cases, dial a PSTN number, then an announcement is played, asking the participant to enter the meeting ID.
After this, the optional Participant ID can be entered.