Starting an instant meeting
Under Meetings in the navigation menu on the left, you have the option to create an instant meeting:
- Click Start Meeting to start an instant meeting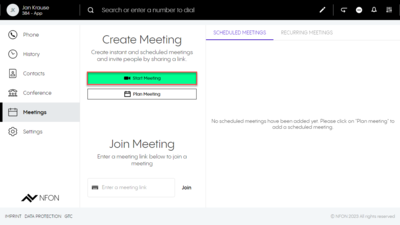 Scheduled and recurring meetings
Under Meetings in the navigation menu on the left, you also have the option to create scheduled and recurring meetings
- Click on Plan Meeting to set up a scheduled meeting or recurring meeting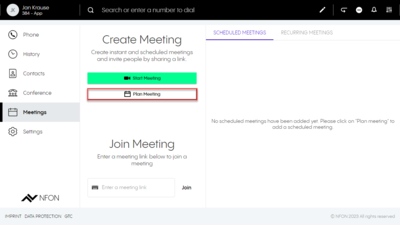 A new window opens for the configuration of the planned meeting:
In the Add title field, enter a name for the meeting
Under Start Date and End Date, specify the duration of the meeting
To plan a meeting for a whole day or several days, click the All day toggle.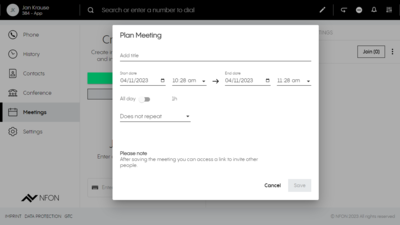 Specify if the meeting is a recurring meeting. Click on Does not repeat, to open a drop-down menu and choose between the following options:

Does not repeat
Every weekday (Mo-Fr)
Weekly
Monthly
Yearly
After you have configured the planned meeting, click Save.
⇒ Planned meetings with the configuration Does not repeat are displayed under the Scheduled Meetings tab. Planned meetings that repeat are displayed under the Recurring Meetings tab.
To copy an invitation, edit, access information or delete a scheduled or recurring meeting, click on the three dots next to this meeting.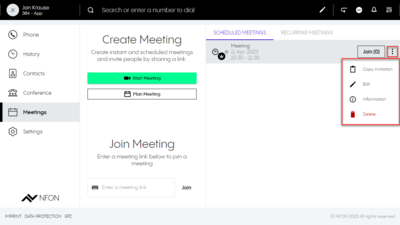 TIP
If a scheduled meeting is used (people click on the invitation link), its lifetime will be extended by another 30 days every time it's used. This means that if you keep using a scheduled meeting, it will never expire. Its lifetime will always be 30 days from the day it was last used. A scheduled meeting only expires if it is "idle" for more than 30 days.