Settings
Here you will find all app parameters.
The settings are clustered into seven sections:
User
Call forwarding
Queues
Function keys
Fax
Download
Info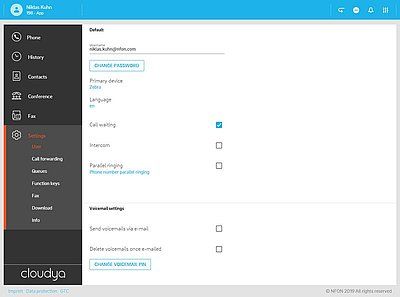 User
Here you can see your profile
Change your password
Select your primary device - for more details see chapter Overview - App menu
Select your app language
Set options like call waiting indication, intercom, parallel ringing
Set ringtones
Set voicemail settings
Add linked extensions
Call forwarding
Set call forwarding parameters.
For more details, see the chapter Call forwarding.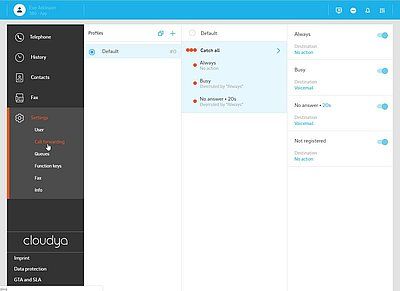 Function keys
Set your functions keys.
Your function keys will also be shown as contacts in your favourite list.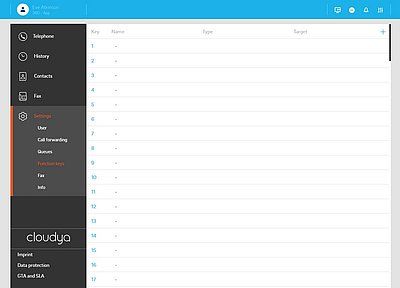 Fax
In case you have a fax extension, you can connect it to your app in order to send and receive faxes.
You will need your fax login and PIN to connect your extension.
- Go to Settings - Fax - Add fax.
Once your fax extension is successfully connected, the feature fax will appear in the menu. Here you will find your fax history and can send faxes.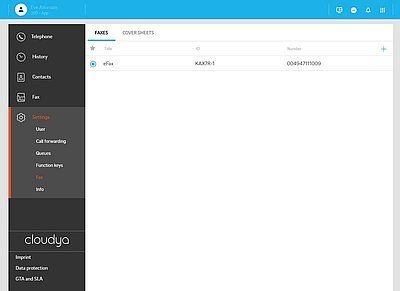 Download
Here you will find the current version of the Desktop Apps for Windows and macOS for download.
Info
Here you will find more information on the app.