Please use the latest version of Google Chrome to run the app.
You will receive an email asking you to define your password. Please define it and use it to log in.
Login
In order to use the app proceed as follows:
- Open start.cloudya.com
- Enter your username (this is your e-mail address) and password.
- Click on login.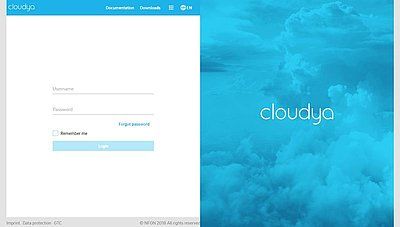 Once you are logged in, you will see the start screen of the app.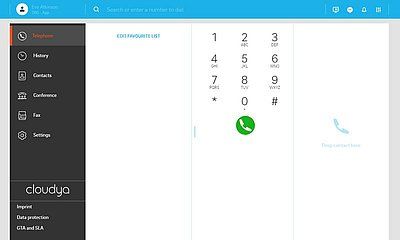 App overview
The app is divided into 5 major sections:
App menu in the top left corner
Search bar on the top
Telephone menu on the left side
Favourite list (your BLF keys)*
Telephone / Dial field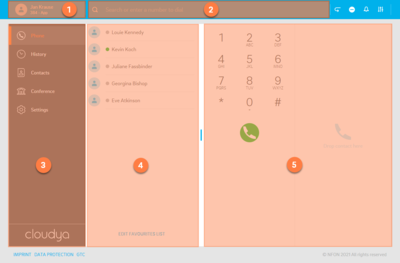 *The favourite list is a list of the BLF keys from your device. In case you did not set any BLF keys or the user is new, this field will remain empty.
App menu
Now more on each section:
Here you will find the following features:
log in and log off from the app
select the device you would like to call with
add devices you would like to call with (C2D target)
switch between your devices
You can make calls via the app, via your extension i.e. the device connected to your extension (e.g. desktop telephone) or another target e.g. your mobile phone. This feature is called Click to Dial (C2D). You select the target via which you want to make calls and all your calls will be made via this target.
When the app menu is closed, you can see your name and the device you are calling with in left top corner.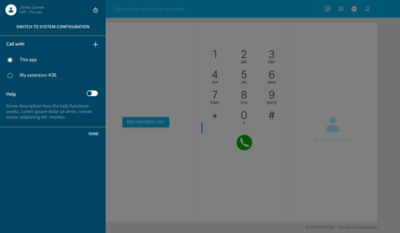 Per default, the app is set as your primary device - the target you will call with. This means, once you have an incoming call, your app will ring. In case you want to change this, change the selected target.
- If you would like to add a new external number you would like to call with, click on your name in the upper left corner.
You will be taken to the App menu.
- Click on the + sign in the "Call with" section.

An input field opens up. Here you can now enter your new external number, e.g. a hotel room telephone from the hotel room you are currently staying in.

- Enter a name and telephone number for the external number.

- Click on Save.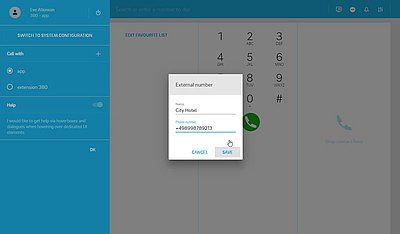 The City Hotel number appears now in the list of devices you can make calls with.
- To make a call via the hotel room number, click on the City Hotel entry.
The hotel room telephone is now selected as your device to make calls.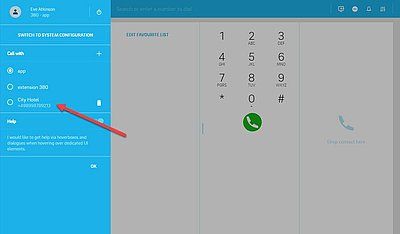 Search bar
Search the pbx and your private phone book. Search results are clustered.
Next to the search bar you will find some shortcuts of the following features of the app:
| | |
| --- | --- |
| | Call pull feature - pull your running call into the App and continue your call via the App. (star code *8) |
| | DND - feature |
| | Sound mode - Switch the ringtone on or off. In case your ringtone is off, incoming calls will be signalised visually only |
| | Audio output - Select an audio output (e.g. a connected headset) for calls and ringtones |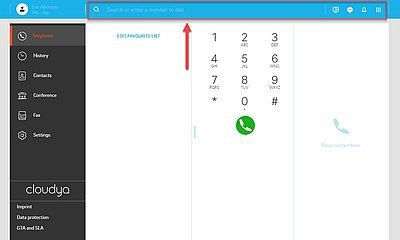 Individual icons may not be visible for you in case you did not configure the actual setting.
History
Here you will find received, made and missed calls as well as voicemails.
Double click on entry to see more details or to delete the entry.
Listen to your received voicemails directly in the history tab (visual voicemail).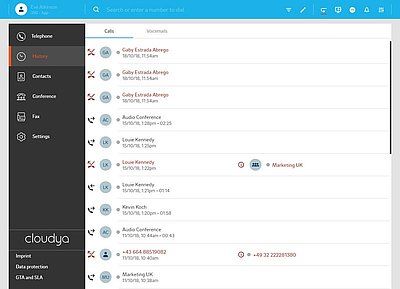 Telephone menu
Here you will find the following features:
Telephone
Initiate calls.
Find more information on how to make calls in the chapter Telephone - how to make calls.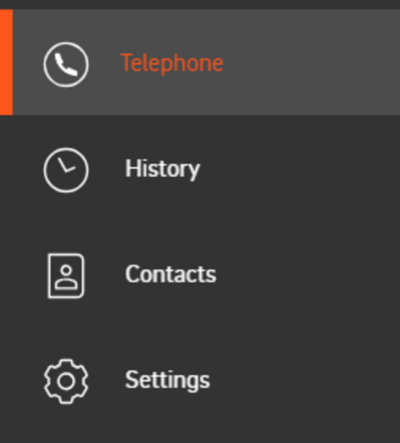 Contacts
Here you will find all your contacts in alphabetic order.
-In order to call a telephone number from the list, click on the entry and click then on the number.
For more options, make a right-click on the number.
You can filter your contacts into global and private contacts. You can edit entries and add new ones.
- To do this, click on the corresponding feature icon that appear in the search bar as soon as you switch to the Contacts area.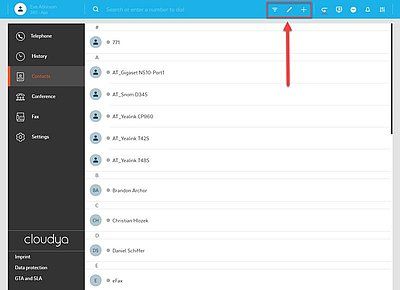 Settings
Here you will find all app parameters, e.g. the following features:
User settings
Call forwarding
Queues
Function keys
Fax
Download
Info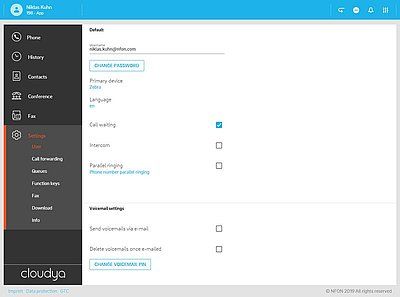 Please note that fax settings from Ncontrol are not synchronised with the web app.
Favourite list
The favourite list is a list of function keys e.g. speed dials or busy lamp fields set on your extension.
For example, you can save telephone numbers that you call most frequently to your favourite list.
- Click on Edit favourite list.

- Then click on the plus button and enter the telephone number and the name.

- Save the entry.

The entry now appears in the favourite list.
In case there are already function keys set for your extension (e.g.to your desktop phone), they will appear here in your favourite list.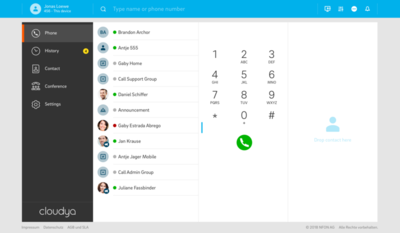 This is your virtual BLF list.
See who is talking
Drag & drop the number directly from the favourite list to initiate the call
Telephone / dial field
Dial here the telephone number you wish to call
Use the DTMF field to enter the telephone number you wish to call or to enter conference room PINs