IMPORTANT
Please note that the Automatic default setting for call through is Germany. If you are in another country, make sure to change it to the country you are in.
Changing GSM settings
In this view, you can
Register your mobile phone number. Please note that it is only possible if your device has a SIM card installed.
Change the settings for the call-through options. Please not that it is only possible if you have registered a mobile phone number.
Activate/deactivate the GSM only option. Please note that charges can occur, depending on your phone contract.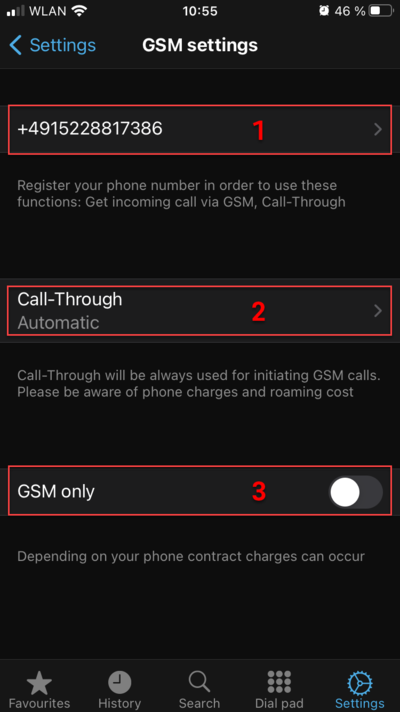 Managing options for devices to call with
In Device to call with, you can
Add another device
Select This device. The calls will be made from the device you are currently using only. This is the default setting.
Select All other devices for my extension. All devices will ring apart from this device.
Select a customised device to call with. If you add a customised device in the mobile app, it will also be available in the web app.
Edit the customised device (change the name of the device, the number or delete the entry).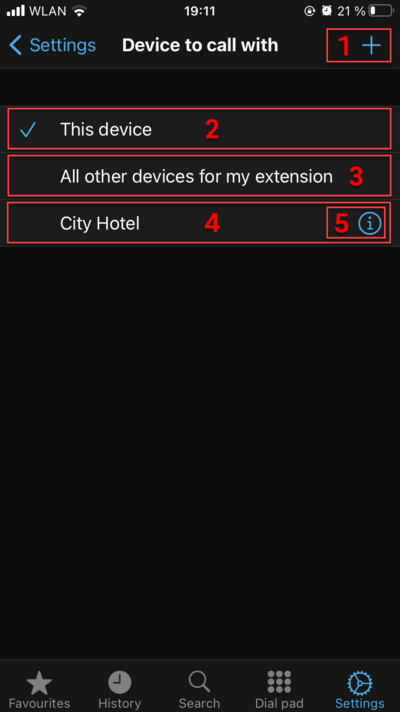 Managing emergency number handling
If an extension number coincides with the emergency number, you have select what you want to call.
In this view, you can set the setting to
Call emergency number
Call the extension
Always ask before you make the call.