CRM Connect allows for the integration of various customer relationship management tools into Cloudya and the use of the telephony directly in your integrated CRM systems.
This interconnected solution allows you to save time and work more efficiently.
Here are some of the supported features:
Direct address book search in the integrated CRM
Caller details preview
Click to dial out of web browsers and integrated applications
Please note that the CRM Connect integration is currently available for the Desktop App and on Windows systems only. For more details on compatibility, refer to this overview.
Installation Windows
1. Download the latest Cloudya CRM Connect desktop app at: https://www.nfon.com/en/service/downloads.
2. Under your downloaded files, open the Cloudya installer.
Cloudya and CRM Connect will be installed automatically. Once installation is complete, the Cloudya Desktop app will open.
3. Log in to the Desktop app and open Settings.
After about a minute, CRM Connect will appear as a new tab under Settings.
4. Click on CRM Connect to start configuring your CRM integration.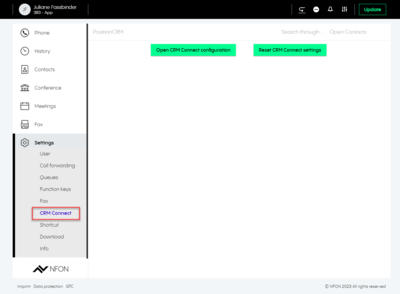 CRM Connect Integration Windows
1. Click on Open CRM Connect Configuration.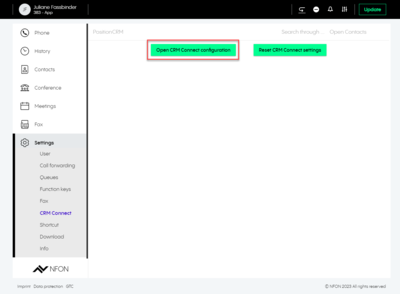 A new window will open in the task bar.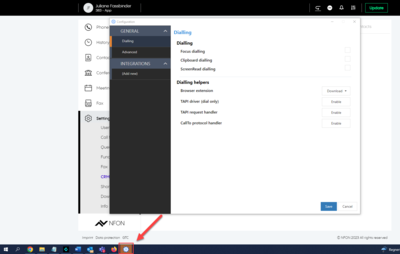 2. Click on the Integrations tab.
3. Click on (Add new) under the Integrations tab.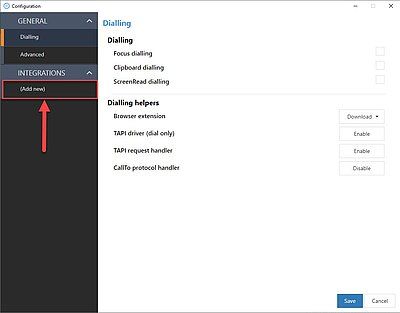 Note that the number of applications displayed in the drop-down list varies according to your licence model.
4. Click on the Integrations drop-down menu.
5. Select the CRM application you want to integrate.
6. Click on Add.
A configuration page will open.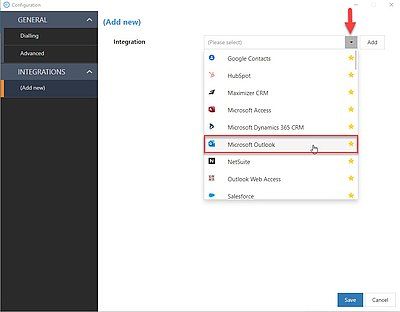 7. Enter the remaining settings according to the page dialogue.
E.g. for the Outlook integration, select the Contacts folder.
8. Click on Save to complete the integration.
Click on Cancel to cancel the configuration of a new integration.
Click on Delete to remove a previously configured integration.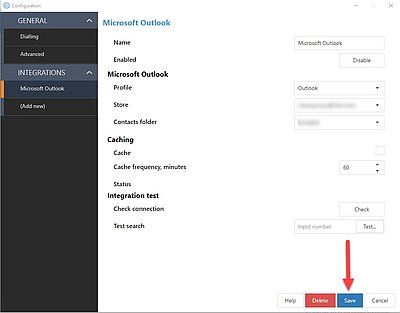 For each CRM system listed, a detailed step-by-step guide is available via the Help button.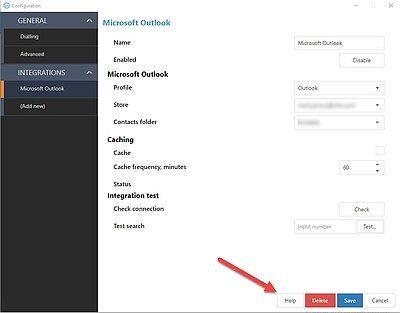 Operation examples
Dialling
CRM Connect offers you various outbound calling methods.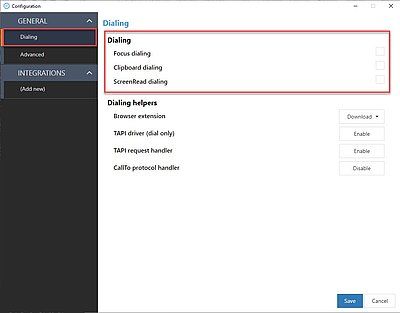 Note that not all applications support all of the dialling methods described below.
Focus dialling
This dialling methods displays a dial icon for a field containing a phone number.
The field must be selected first or be in "focus" for the dial icon to appear.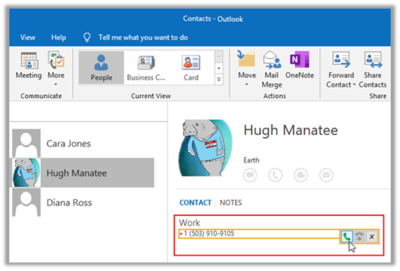 Clipboard dialling
Clipboard dialling enables quick dialling by selecting and copying telephone numbers.
A dial pop-up prompt automatically appears when the number is copied to the Windows clipboard, either by keyboard or by mouse clicks – simply click the phone icon to make the call.

ScreenRead dialling
ScreenRead dialling allows any telephone number visible in Windows applications, documents, email signatures or images containing phone numbers to be dialled.
– Position the mouse cursor over the number to dial and hold CTRL+SHIFT to activate the "capture" box.
The "capture" box will automatically convert anything that appears to be a telephone number into a click-to-dial button.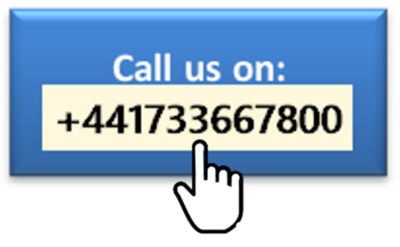 Not every image may be readable due to certain conditions, e.g. digits should be horizontal and must fit within the capture box.
Web Dialling Configuration
Browser Extension
Web dialling enables you to make outbound calls directly from a web browser.
1. Select a web browser extension to install.
2. Configure dialling directly from a web page for Edge, Opera, Chrome or Firefox.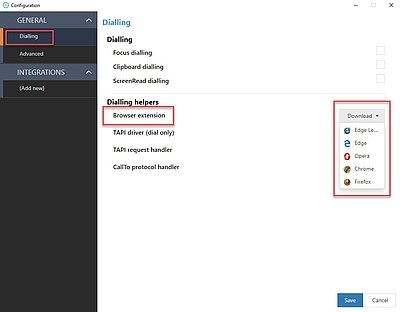 TAPI Driver
Enable TAPI-compatible application to assist with dialling:
– Enable TAPI driver (dial only), 'CallTo' protocol handler, or TAPI request handler.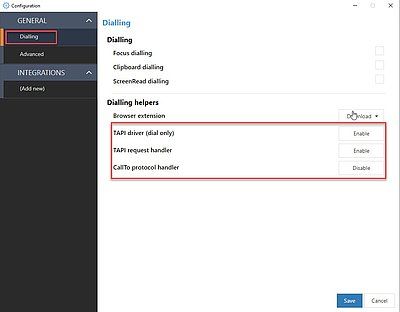 Refer to the manual of the CRM manufacturer of your TAPI-enabled application to configure dialling.
General settings
Under the Advanced tab, you will find the following:
application-specific version details
language settings for the CRM Connect menu
customer feedback option which, once selected, will enable communication of anonymous data to help improve the product
application logs that contain details about the software configuration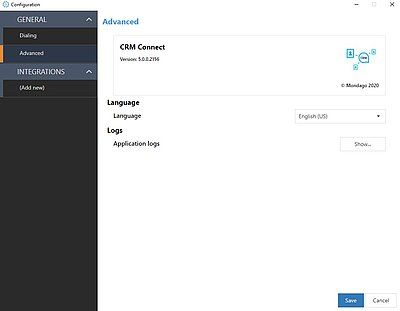 Depending on the initial setup, not all user information will be displayed.