"NFON Standard Integration for Microsoft Teams" is a bolt-on that supplements the "Telephone System" service with a Voice over IP (VoIP) interface into Microsoft Phone System. NFON Standard Integration for Microsoft Teams uses Microsoft's Direct Routing solution to enable PSTN services from within Microsoft Teams.
NConnect Voice for Microsoft Teams Direct Routing enables the direct connection of MS Teams to public telephony (PSTN) via the SIP Trunk of NFON AG / DTS. The Microsoft Teams clients are used as softphones connected to the NFON Platform (via the Microsoft Phone System and Direct Routing), which allow users to leverage the enterprise telephony features that comes with Microsoft Teams.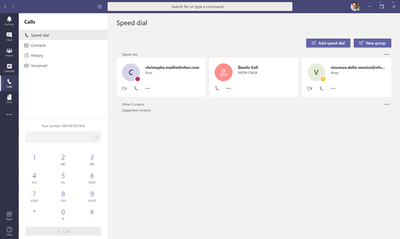 The deployment and configuration of the Microsoft Teams Apps is done from the Microsoft 365 / Office 365 Teams Admin Centre, a familiar interface to most IT Departments, while the integration between the NFON Platform and the Microsoft Phone System is configured via PowerShell, which can be done by your Microsoft Partner.
The required components to enable this integration (SIP Trunk) can be ordered via Nconnect Voice order form.