Video conferencing has become one of the most important business communication tools for the business today. It has transformed how companies interact with their workforce, clients, and families, and is changing the dynamics of the modern workplace. Even before the coronavirus pandemic hit, the benefits of being holding meetings and collaborating online, from anywhere, gave businesses a competitive edge.
A geographically dispersed and locked down workforce has seen the use of video conferencing software skyrocket - according to Grandview Research, the global market for video conferencing was worth $4.21 billion last year and is expected to grow at a rate of 9.9% by 2027.
These are five of the biggest business benefits of video conferencing that you need to know about.
1. Proven business value
One of the most significant benefits is that online meetings save time and money. Not only do employees not have to worry about the cost that comes with a daily commute, but they also don't have to travel for business. Teleconferences can be scheduled from anywhere and companies save money not paying for the necessities it takes to keep an office operating (including unused real estate space).
2. Revolutionise recruitment
An additional benefit lies in recruitment - hiring remote employees, in different locations, who can be interviewed and trained independently is now possible thanks to video conferencing. And, once a part of your remote team, video conferencing helps employees feel connected and a part of the company culture. While a lot can be said over an email, a video is more engaging because being face-to-face keeps you engaged (and leaves little room for multi-tasking).
3. A culture of collaboration
While dedicated instant messaging tools are a great way to keep remote teams in touch, video conferencing adds that face-to-face element that often makes co-workers feel connected. While being a part of a virtual team is an important driver of digital transformation, a company needs to invest in modern technologies to keep offsite staff engaged and improve productivity. Video conferencing improves everyday internal and external communication and collaboration by offering flexibility that's functional.
4. Convenient virtual workspaces
Unlike audio calls or chat-based communication, video conferencing helps make meetings more convenient by allowing file or screen sharing in the digital space. It also increases focus - while it's easy to lose track of time during face-to-face meetings and multitask during audio-only calls, video conferences are set for a certain duration which often means focussing on the topic at hand and as a result, increased productivity and efficiency.
5. Do it for the planet
It's no secret that jet setting takes a toll on the environment. Air travel (including domestic and international; passenger and freight) accounts for 1.9% of greenhouse gas emissions. Video conferencing is an environmentally friendly way to cut down on your company's carbon footprint, while reducing capital costs on travel and accommodation. According to the World Wildlife Fund, the constant improvement of video conferencing facilities could reduce global emissions by a billion tonnes every year by 2030.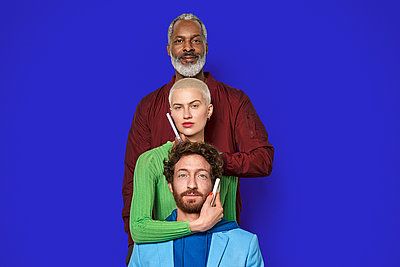 So where does unified communications and collaboration fit in?
A globally distributed (and disrupted) workforce needs access to the same tools in order to and work together in the same streamlined interface. Video conferencing is a key component of UCC - unified communication and collaboration - for companies that need to connect, collaborate, and communicate within a single, streamlined space. The influx of communication tools available can be overwhelming for business of any size. UCC offers the convenience of a single communications platform for better connections and productivity. Operating out of the cloud or on-site, UCC brings together mobile devices, PCs, smartphones, office phones, and tablets to manage instant messaging, phone calls, video calls, and text messages in one place.
What does Unified Communications mean?
Video conferencing is the future of work
Effective communication is vital and video conferencing has become an indispensable way doing business better. Virtual workspaces are no longer a matter of choice, but a palpable, cost-effective, and scalable solution for seeing someone face-to-face. Video conferencing is the new normal as well as the heart of a more flexible workplace, fundamentally changing internal and external company communications for the better.
Looking to get started with video conferencing? Discover NFONS cloud telephone system Cloudya as well as its function Meet & Share, which is a 1:1 video and screen-sharing feature built exclusively for the Cloudya web app.
To find out how you can seamlessly add video to ongoing calls at the click of a button!